Jurassic World: Dominion Dominates Fandom Wikis - The Loop
Play Sound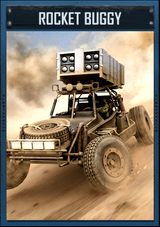 Target Efficiency
INFANTRY
LIGHT
VEHICLE
HEAVY
VEHICLE
COPTERS
PLANES
BEST
GOOD
POOR
GOOD
CAN'T HIT
Unit Role
ROLE
DAMAGE
TYPE
SPEED
RANGE
CAPACITY
SHOOT & MOVE
Support
AOE
75
250
75
NO
Build Cost
METAL
COPONENT
BUILD REQUIREMENTS
40,000
x20 Rocket Buggy Critical
Player Lvl 26
War Factory Lvl 5
"

With virtually no armor, Rocket Buggies are light strike vehicles equipped with rocket launchers best used to hit and run.

"

 

— In-Game Description 
General Information
[
]
Unit Progression
[
]
Level
Promote Cost
Repair Cost
Per Unit
DPS
Health
XP Gain
Resource
Component
1
N/A
N/A
210
306
3,600
N/A
2
50,000
x30 Rocket Buggy Critical
x25 Light Vehicle Common
228
396
+500
3
100,000
x60 Rocket Buggy Critical
x35 Light Vehicle Common
245
448
4
200,000
x90 Rocket Buggy Critical
x50 Light Vehicle Common
263
508
5
375,000
x100 Rocket Buggy Critical
x75 Light Vehicle Common
283
577
6
550,000
x125 Rocket Buggy Critical
x125 Light Vehicle Common
303
657
7
875,000
x175 Rocket Buggy Critical
x150 Light Vehicle Common
310
750
8
1,400,000
x200 Rocket Buggy Critical
x200 Light Vehicle Common
319
859
9
2,050,000
x250 Rocket Buggy Critical
x250 Light Vehicle Common
326
987
10
2,900,000
x300 Rocket Buggy Critical
x300 Light Vehicle Common
334
1,137
Role Equipment
[
]
Blast Deflectors
Level 
Percent
Increase 
HP
Increase 
HP
Total 
Light Vechicle 
1
5%
205
4305 
2
10%
410
4510 
3
15%
615
4715 
4
20%
820
4920 
5
25%
1025
5125 
6
30%
1230
5330 
7
35%
1435
5535 
8
40%
1640
5740 
9
45%
1845
5945 
10
50%
2050
6150 
Video Gallery
[
]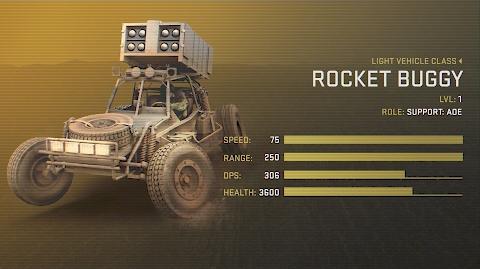 Trivia
[
]
After the 2.37 update, Rocket Buggy, along with the PK IFV, S-13 (which was added back later), Humvee IFV, and Stryker are removed from the game. Players who had access to them before the update will get to keep them with max promotion and equipment levels. Those who didn't will never get to use it again.

However, this vehicle still exists in the game in the form of Rocket Buggy Strike. It can also spawn as a defender unit in NPC bases or from players who own it.
The game still implies that it exists via the blast deflector's description, as well as during the campaign series "The Red Wolf."