Jurassic World: Dominion Dominates Fandom Wikis - The Loop
Play Sound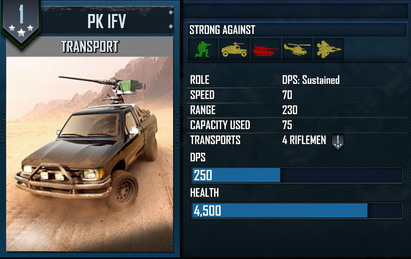 "

The PK IFV Transport is a more durable and close ranged variant of the PK. If it gets destroyed, Riflemen come to aid the battle at the same level as your Army's Riflemen.

"

 

— In-Game Description 
Target Efficiency
Infantry
Light Vehicles
Heavy Vehicles
Copters
Planes
Excellent
Good
Bad
Good
Good
| Role | Damage Type | Speed | Range | Capacity | Equipment | Shoot and Move |
| --- | --- | --- | --- | --- | --- | --- |
| DPS | Sustained | 70 | 230 | 75 | Gunner Protection | Yes |
Build Cost
Unlock Requirements
Resource
Component
12,000
N/A
War Factory Lv 4
General Information
[
]
The PK IVF is basically a PK with shorter range. When destroyed, the vehicle spawns 4 riflemen units on the spot. These units cannot be manually guided, and have the same stats as those the player can build for their platoons.
Once redeemed it starts at the same promotion level as the normal PK, and they level up in tandem; promoting one will promote the other at no additional cost. Variants also do not give XP for promoting, though you still get the normal XP for the base unit since they upgrade at the same time.
Unit Progression
[
]
Level
Promote Cost
Repair Cost
Per Unit
DPS
Health
XP Gain
Resource
Component
1
N/A
N/A
137
250
4500
N/A
2
14,000
x1 PK Critical
x1 Light Vehicle Common
162
275
4590
0
3
25,000
x2 PK Critical
x2 Light Vehicle Common
175
305
4680
4
50,000
x3 PK Critical
x3 Light Vehicle Common
189
335
4770
5
85,000
x5 PK Critical
x5 Light Vehicle Common
204
370
4807
6
125,000
x20 PK Critical
x10 Light Vehicle Common
220
405
4970
7
200,000
x25 PK Critical
x12 Light Vehicle Common
238
445
5070
8
275,000
x40 PK Critical
x20 Light Vehicle Common
257
490
5170
9
375,000
x60 PK Critical
x25 Light Vehicle Common
278
540
5270
10
475,000
x80 PK Critical
x35 Light Vehicle Common
300
595
5380
Role Equipment
[
]
HP Bonus
Due to the fact that PK IFV gets both HP and DPS at each promotion level, how much health it can have at a given equipment level is different for not just each equipment level, but each equipment level at each promotion level. For now you will just see the percent it is increased by and need to figure out what the health should be based on the percent increase and the health the unit will have at its current promotion level.
Name
Armored Chassis


HP Increase 
Lv1
+5% (+HP)
Lv2
+10% (+HP)
Lv3
+15% (+HP)
Lv4
+20% (+HP)
Lv5
+25% (+HP)
Lv6
+30% (+HP)
Lv7
+35% (+HP)
Lv8
+40% (+HP)
Lv9
+45% (+HP)
Lv10
+50% (+HP)