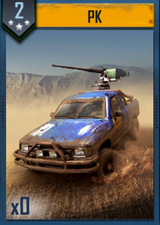 Target Efficiency
INFANTRY
LIGHT
VEHICLE
HEAVY
VEHICLE
COPTERS
PLANES
BEST
GOOD
POOR
GOOD
GOOD
Unit Role
ROLE
DAMAGE
TYPE
SPEED
RANGE
CAPACITY
SHOOT & MOVE
DPS
Sustain
70
240
50
YES
Build Cost
METAL
COPONENT
BUILD REQUIREMENTS
4,000
N/A
Player Level 2
"

PK Technicals deliver continuous damage at high speed for tactical attacks. It is very lightly armored so use its speed to get out of range quickly.

"

 

— In-Game Description 
Level
Promote Cost
Repair Cost
Per Unit
DPS
Health
XP Gain
Resource
Component
1
N/A
N/A
125
2,400
N/A
2
14,000
x1 PK Critical
x1 Light Vehicle Common
77
140
+5
3
25,000
x2 PK Critical
x2 Light Vehicle Common
79
160
4
50,000
x3 PK Critical
x3 Light Vehicle Common
81
185
5
85,000
x5 PK Critical
x5 Light Vehicle Common
83
210
6
125,000
x20 PK Critical
x10 Light Vehicle Common
90
240
7
200,000
x25 PK Critical
x12 Light Vehicle Common
97
275
8
275,000
x40 PK Critical
x20 Light Vehicle Common
104
320
9
375,000
x60 PK Critical
x25 Light Vehicle Common
110
375
10
475,000
x80 PK Critical
x35 Light Vehicle Common
118
440
Gunner Protection
Level 
Percent
Increase 
HP
Increase 
HP
Total 
Light Vechicle 
1
5%
120
2520 
2
10%
240
2640 
3
15%
360
2760 
4
20%
480
2880 
5
25%
600
3000 
6
30%
720
3120 
7
35%
840
3240 
8
40%
960
3360 
9
45%
1080
3480 
10
50%
1200
3600 
The PK used to have an IFV Variant, which spawns 4 Riflemen when destroyed. It was removed from the game, though the unit still exists as a defender in NPC-generated bases such as in campaign and in low level FOBs, along with the Humvee IFV, the Rocket Buggy, and the Stryker.
Community content is available under
CC-BY-SA
unless otherwise noted.