Target Efficiency
INFANTRY
LIGHT
VEHICLE
HEAVY
VEHICLE
COPTERS
PLANES
GOOD
POOR
GOOD
CAN'T HIT
CAN'T HIT
Unit Role
ROLE
DAMAGE
TYPE
SPEED
RANGE
CAPACITY
SHOOT & MOVE
Sustained
DPS
35
310
20
NO
Build Cost
METAL
COPONENT
BUILD REQUIREMENTS
10,000
x10 Mortarman Critical
Player Lvl 19
Barracks Lvl 4
"

Mortar men fire long range and over obstacles with shells that do area burst damage. Great for support to bust bases and wipe out enemy infantry, but keep them off the front lines.

"

 

— In-Game Description 
Mortarmen are support units. Being ground infantry, they are quite weak and vulnerable to many weapons and turrets, as well as Splash damage and aerial vehicles. The mortar deal great damage to buildings, enemy infantry, and light vehicles alike as well as being able to chip down heavy vehicles if other units are taking the heat for them. They are quite cheap to build compared to other avaliable units, so it should not be hard to amass an army of them.
An advantage they (as well as some other units like the M270 Launcher) have is the ability to launch their attacks over obstacles, whereas some defenses cannot retaliate (For example, a Machine gun may attempt to aim at enemies behind a natural structure, but will not fire since it's obstructed). This can be used to take out dangerous defenses such as Railguns.
It's best to destroy Splash damage defenses and enemy units quickly, as mortar men are glass cannons, and therefore, even a single shot from a Howitzer/Salvo can easily ruin your attack. Keep an eye for blind spots and make sure the guns are all fixated on the heavier vehicles. In the meantime, watch out for minefields with anti-infantry munitions.
Level
Promote Cost
Repair Cost (Oil)
DPS
Health
XP Gain
Metal
Thorium
Component
1
N/A
N/A
N/A
36
112
1,200
N/A
2
45,000
N/A
x30 Mortarman Critical
x25 Infantry Common
51
126
+140
3
95,000
N/A
x60 Mortarman Critical
x35 Infantry Common
55
143
4
175,000
N/A
x90 Mortarman Critical
x50 Infantry Common
60
162
5
350,000
N/A
x100 Mortarman Critical
x75 Infantry Common
64
185
6
500,000
8,500
x125 Mortarman Critical
x125 Infantry Common
68
211
7
825,000
11,250
x175 Mortarman Critical
x150 Infantry Common
70
241
8
1,300,000
15,000
x200 Mortarman Critical
x200 Infantry Common
71
276
9
1,900,000
18,750
x250 Mortarman Critical
x250 Infantry Common
74
317
10
2,650,000
22,750
x300 Mortarman Critical
x300 Infantry Common
75
366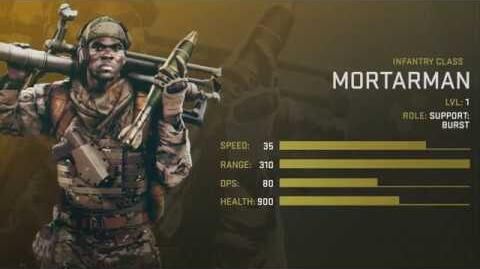 Community content is available under
CC-BY-SA
unless otherwise noted.