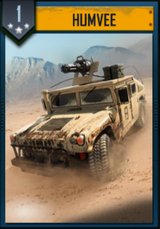 Target Efficiency
INFANTRY
LIGHT
VEHICLE
HEAVY
VEHICLE
COPTERS
PLANES
BEST
GOOD
POOR
GOOD
CAN'T HIT
Unit Role
ROLE
DAMAGE
TYPE
SPEED
RANGE
CAPACITY
SHOOT & MOVE
DPS
Ballistic
70
240
50
YES
Build Cost
METAL
COPONENT
BUILD REQUIREMENTS
330,000
x20 Humvee Critical
Player Lvl 16
War Factory Lvl 4
"

Lightly armored Humvees fire .50 caliber rounds at 1,200 rounds/min and get out of, or into, trouble quick. Use them to kite slow firing enemies.

"

 

— In-Game Description 
The Humvee is offered as a replacement to the PK. Taking twice the space and losing the ability to target fixed-wing aircraft (without the FIM-43 Redeye missile), it's significantly faster. It will still take time to accelerate to full speed but once it is at that, it will be able to easily lead enemy units in circles. It also retains the ability to attack while on the move, which further compliments it's role as both a support unit and as a kiting unit. It additionally features a wide array of equipment to enhance it's abilities.
Like all light vehicles, it has little armor and will be easily destroyed by mine fields as well as just anything that does damage. A well-known strategy is with an entire platoon of humvees (the squad count allows up to 25 humvees in a platoon which is 1250 space occupied). The combined might of these vehicles can dish out insane amounts of damage within seconds, often destroying railguns before they can fire (unless buffed by a transformer) and outrunning mortar shells, as well as shredding helicopters, while minimizing a lot of damage taken. The only weakness to this would be anti-vehicle minefields, but that's just about it for every ground unit.
Level
Promote Cost
Repair Cost
Per Unit
DPS
Health
XP Gain
Resource
Component
1
N/A
N/A
130
140
3,600
N/A
2
50,000
x30 Humvee Critical
x25 Light Vehicle Common
141
220
+140
3
100,000
x60 Humvee Critical
x35 Light Vehicle Common
152
240
4
200,000
x90 Humvee Critical
x50 Light Vehicle Common
163
270
5
350,000
x100 Humvee Critical
x75 Light Vehicle Common
175
300
6
525,000
x125 Humvee Critical
x125 Light Vehicle Common
188
330
7
875,000
x175 Humvee Critical
x150 Light Vehicle Common
193
370
8
1,350,000
x200 Humvee Critical
x200 Light Vehicle Common
198
410
9
2,000,000
x250 Humvee Critical
x250 Light Vehicle Common
203
460
10
2,750,000
x300 Humvee Critical
x300 Light Vehicle Common
208
510
Gunner Protection
Level 
Percent
Increase 
HP
Increase 
HP
Total 
Light Vechicle 
1
5%
245
5145 
2
10%
490
5390 
3
15%
735
5635 
4
20%
980
5880 
5
25%
1225
6125 
6
30%
1470
6370 
7
35%
1715
6615 
8
40%
1960
6860 
9
45%
2205
7105 
10
50%
2450
7350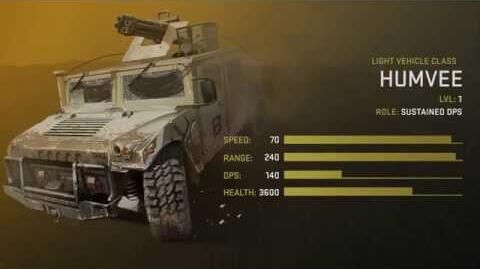 The Humvee is based on the eponymous real-life vehicle.
Like the PK and Stryker, it used to have an IFV Variant. Although the variant is removed, the Cougar effectively replaces it.
Community content is available under
CC-BY-SA
unless otherwise noted.