Jurassic World: Dominion Dominates Fandom Wikis - The Loop
Play Sound
FOBs are NPC bases specifically allied to the player and provide tactical advantages.
General
[
]
FOBs can only be deployed next to the player's HQ and they will assist in PVP offenses/defenses within War Zones.
The units spawned by the FOB can vary, but their stats depend on the player's own counterparts, after which a bonus is supplied to the units. They will change to their advanced counterparts once upgraded via Global Operations, which can also increase the quality of bonuses as well as the quantity of units, ignoring the usual squad count in the process. FOB units will spawn within 5 seconds of an attack beginning.
FOBs can be destroyed by other players, or scrapped by the owner (at a refund). Upgrades to FOBs via the Global Operations do not affect existing ones and to get the benefits of newer ones the player must remove their current FOBs and get new ones.
Offensively, FOB units are not a part of the player's platoon, and so if the units are destroyed in combat directly, they will always be fully repaired for the next battle without the player's expense. These units cannot be controlled by the player, but the bonus to their stats partially compensate for that.
Defensively, one FOB will send units to the aid of the closest allied base (more specifically the owner's base and those of other FOBs). They work like any defender unit spawned from their respective production buildings.
Infantry Vehicle Reinforcement
[
]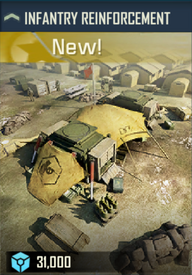 "

This Forward Operating Base will send additional infantry to defend your bases.

"

 

— In-Game Description 
Level
Cost
Units
Toughness
Strength
Requirements
Build
Unlock/Upgrade
Refund
Victory
Reward
1-3
15,000
3,750
3,875
Cougar (Machine
Gunner)
2
5
Global Ops Lvl 1
4-7
50,000
990,000
8,000
12,500
14,100
Stryker IFV (Force Recon)
4
7
Global Ops Lvl 4
8
BMP (Force Recon/

AGS Team

)
9
Grizzly (Sentinel)
10

Kodiak

(

Spartan

)
Tank Reinforcement
[
]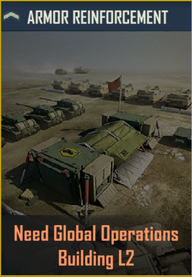 "

This Forward Operating Base will send additional armor to defend your bases.

"

 

— In-Game Description 
Level
Cost
Units
Toughness
Strength
Requirements
Build
Unlock/Upgrade
Refund
Victory
Reward
1-2
20,000
120,000
5,000
5,600
Rhino
1
6
Global Ops Lvl 2
3-4
2,450,000
13,000
Abrams M1A1
3
8
Global Ops Lvl 5
5-7
Merkava IVM
8
T-14 Armata
9
Leopard 2A7
Helicopter Reinforcement
[
]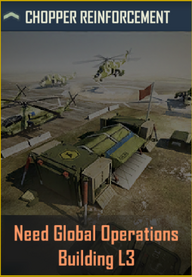 "

This Forward Operating Base will send additional choppers to defend your bases.

"

 

— In-Game Description 
Level
Cost
Units
Toughness
Strength
Requirements
Build
Unlock/Upgrade
Refund
Victory
Reward
1-3
25,000
250,000
6,250
8,250
Cobra
1
6
Global Ops Lvl 3
4-7
100,000
3,200,000
15,000
25,000
37,000
AH-64E Guardian
3
8
Global Ops Lvl 6
8
Ka-50 Black Shark
9
T129 ATAK